Back then, everything had to be held and felt when it came to shopping. We used to go to actual stores and fit our outfit of choice, but now we can buy our entire winter wardrobes off Amazon. The world has evolved as we entered the age of the Internet.
Organizations have adapted to the demands of the digital age. Now that the landscape for businesses and service providers has changed, we can't afford to get left behind. So what's the first step towards embracing these changes and going digital? Let's find out.
Research Your E-Commerce Niche and Evaluate Your Competitors' Performance
Much like starting a physical business from scratch, you need to understand how this new platform works for your products/services. For newbies, making a business plan focused on adapting to online shopping is an essential step.
Try asking yourself these questions:
Which of your existing products/services can you sell online?
Will you offer bulk/wholesale arrangements, subscriptions, or items sold per piece?
How will you deliver the products to your customers?
Do you need to register your e-commerce or online store?
Answering these questions will give you a rundown of goals, tasks, and costs you need to take care of in making your digital business successful.
Competitive analysis can also help you make more informed decisions for your e-commerce strategy. Note things like your competitor's platform, marketing style, and brand messaging. You'll be able to determine how they reach out to people, what type of experience they offer, and how this attracts customers. In this manner, you'll develop a better plan of action than competing organizations (if not, at least you know what steps to take).
Comply With Legal Regulations
To avoid penalties and other legal sanctions brought about by negligence, educate yourself on legal regulations associated with setting up an online store. You're not exempt from this rule even if you are a physical store branching out to the web. Depending on where your business operates, your physical store's registration may differ from your digital shop.
Some countries follow a particular process for registrations. Ask for help from other entrepreneurs or business owners if they registered their e-commerce store or if they had to get a license to operate. Read up and comply if applicable.
Invest in an Outstanding Website
The next big step is your website, as it is your business's gateway to the digital world. Through it, you can communicate your brand, services, and products. Take advantage of your site to the fullest and make sure it doesn't look like a high school project.
Another thing to keep in mind is to optimize your website for mobile browsing. Nowadays, people use their phones to access almost everything. If your website isn't mobile-friendly, you can say goodbye to potential customers and sales.
Connect, Market, and Sell Through Social Media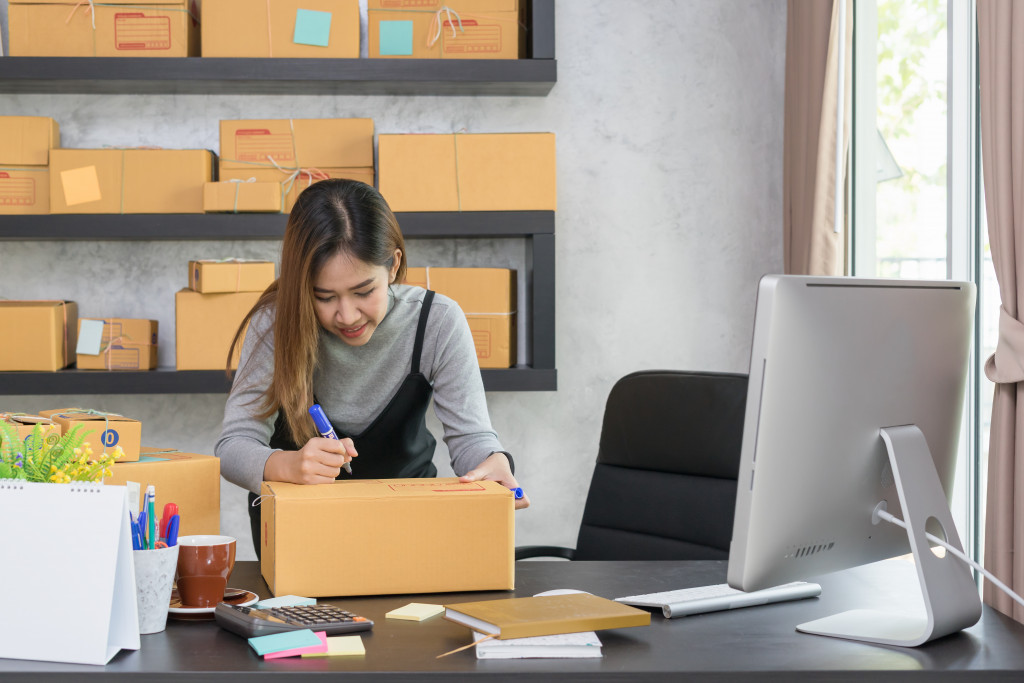 If there's a place where your business needs to be present, it's social media. Everyone's all over social media platforms nowadays, including your local college's mascot! And guess what? All of these people could be potential customers.
Since social media platforms are free to use, you can market your brand and products there all day long. But be careful, as overselling and coming off as too pushy can cost customers, too.
Get Your Products to Your Customers
So you've got your store ready. Customers are inquiring and products are ready to get shipped… Wait, shipped?
Products don't just magically appear on the buyer's doorsteps after clicking "CHECK OUT". For that, you'd need shipping services. You must research the best courier for your business, so your products won't end up getting lost in the mail. You also need to get the costs on your website, so the customer is aware of all the costs they're paying for. To get a rough estimate of how much you should charge for shipping, you can look up USPS shipping rates.
Choose Your Online Marketplace
Unlike websites, online marketplaces are an all-in-one place (like your favorite mall) where you can find almost anything being sold. You have Amazon, eBay, Etsy, and other up and coming digital malls. These platforms make it convenient for buyers to shop online while giving businesses a digital place to advertise and sell their products.
You can set up your online store without having to worry about coding or design. There's no need to worry about choosing payment or shipment methods, as online marketplaces already have their very own systems. Plus, you'll be able to reach an existing audience. Be ready to compete against other sellers though!
Embrace Feedback and Criticism in the Digital Age
When you're doing business in the digital arena, you'll meet every type of customer. If your customers have feedback, be ready to entertain, listen, and take action to their concerns. Criticisms can be utilized as a motivating factor to improve your products and processes. Use it as a powerful tool for change.
As the world continues to evolve, keep in mind that you need to evolve as well. The inability to adapt is a dangerous situation for any business. Keep up, or you'll be left in the dust!