If you're planning on doing something different to your outdoor area, perhaps an outdoor bar and a grilling station can be nice features in your home. If you already have a kitchen but do not have enough space in the dining room for your guests, this can be the most convenient option for you.
Having an outdoor bar and a grilling station in your yard is the right outdoor living for you if you think a simple outdoor living area is too unadventurous. An outdoor kitchen is probably too much. Nonetheless, you don't have to spend much on an outdoor bar and a grilling station if you're not willing to.
If you have guests coming over more often, the outdoors, cold drinks, and dinner parties are your best choices for a good time. This can also be achieved even if you don't have much outdoor space in your yard or you would rather take up a small space and use the rest for something else.
Creating an Outdoor Bar on a Budget
Building this type of living area in your backyard may seem expensive, which it is, although not all at once. You can always start small by buying a simple bar and a mini-fridge just to cup a feel of what it's like to have this feature in your home. If you're feeling it, you can also add a grill stove, then add a temporary seating area for your guests and perhaps temporary roofing if necessary.
If you want to upgrade a little, pretty soon, you can have the area properly roofed for more privacy and protection from harsh weather. You can let it stay as it is if you'd like. Once you can, you can now add proper flooring to make it easier for you to walk on instead of settling on a grass ground cover in your backyard.
Soon enough, you can upgrade into a more pleasant seating, such as an outdoor sofa and center table or a complete dining set. If you have enough space, you can even add both. But you can always stop upgrading if you think it's getting too much.
To save up some space and avoid spending too much, set up only the right amount of seating. Avoid purchasing things you don't really need, such as vases and centerpieces. You can use your decorating money to add more important features to this outdoor space. Prioritize the things that are undoubtedly necessary, such as lighting, fencing, and roofing.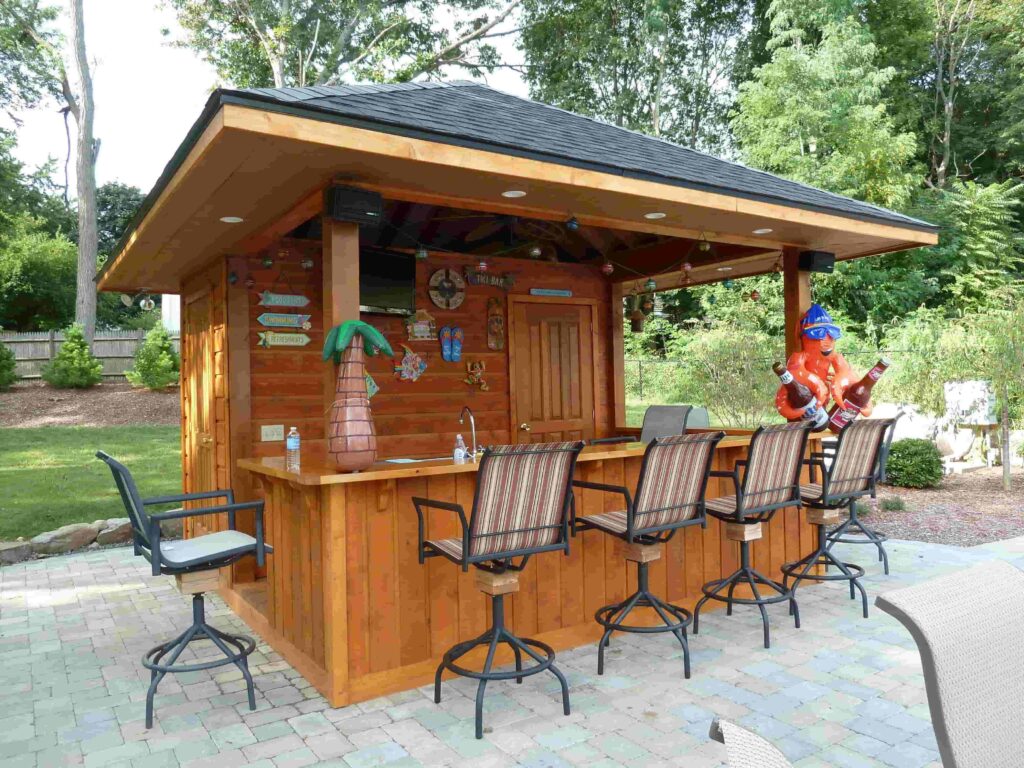 More Features You Can Add
While setting up proper and practical lighting is necessary, you can add more lighting that can make your outdoor areas pretty and inviting if you can still afford it. You can add lights on the floor to have clearer pathways, which is also convenient for safety.
Who says you can't enjoy outdoor living in winter? You can invest in a top-rated outdoor fire pit so that you can still use your grilling station and bar in your backyard, even in colder weather. A fire pit is much more affordable than an actual fireplace for an outdoor living room. You can also have the fire pit designed just as the way you like it and how it goes with everything else in the area. To make the heat more convenient for everyone, you can use a ceiling fan to circulate it properly.
Other Ways to Put Up a Bar in Your Backyard
If you think actually building a living area with proper flooring and everything is too much for you, you can always stop at the simple step. You can just connect your indoor kitchen to an outdoor grilling station and just add a bar. In fact, the only basic things to create an outdoor bar and a grilling station are literally a bar and a grill stove. This part of your home doesn't have to be extravagant.
You can set up a picnic cloth every time you have guests over, or you can just invest in a picnic table. With minimal outdoor furniture and features, you can still use those extra spaces for anything else, whether you have pets that can run around or kids who can run and play on the grass. Another advantage of a minimal or low-key outdoor bar is that it isn't a burden to maintain or repair, whichever comes first.
While a full proper bar and grilling station can be enjoyable, it can be inconvenient to maintain and repair. You don't need a luxury-built outdoor bar to enjoy the outdoors. Having an outdoor area in your home can be enough instead of limiting yourself to a single purpose.