It is common for social and familial circles to get together and celebrate. There are so many reasons for celebrations in a person's life—weddings, birthdays, sports games—you name it. Humans have this inherent love for celebrations. Celebrations happen because we want to recognize certain events that give us joy. It also allows us to share these special events with other people. This has essentially become a major part of how humans socialize.
Celebrations Deserve a Venue
People love celebrating. This is why many have turned this ubiquitous human activity into a living. Entrepreneurs capitalized on the human need to celebrate and created spaces and venues for celebrations. Of course, various venues make our celebrations special. There is always a place that fits the preferences of those who want to celebrate. But among all of them, a garden venue is arguably one of the most visually pleasing places for a celebration.
A Garden for All Occasions
Gardens are incredibly popular venues for all types of celebrations. These are essentially spaces that emulate a backyard garden. They are typically outdoor open spaces with a pavilion to provide roofing in case it rains. The grass is also abundant in garden events places. Also, it is typical to see various plants and flowers all around the area. Garden venues often merge functionality with natural elements. Trees can also be found along with the open space.
Preparing a Garden Venue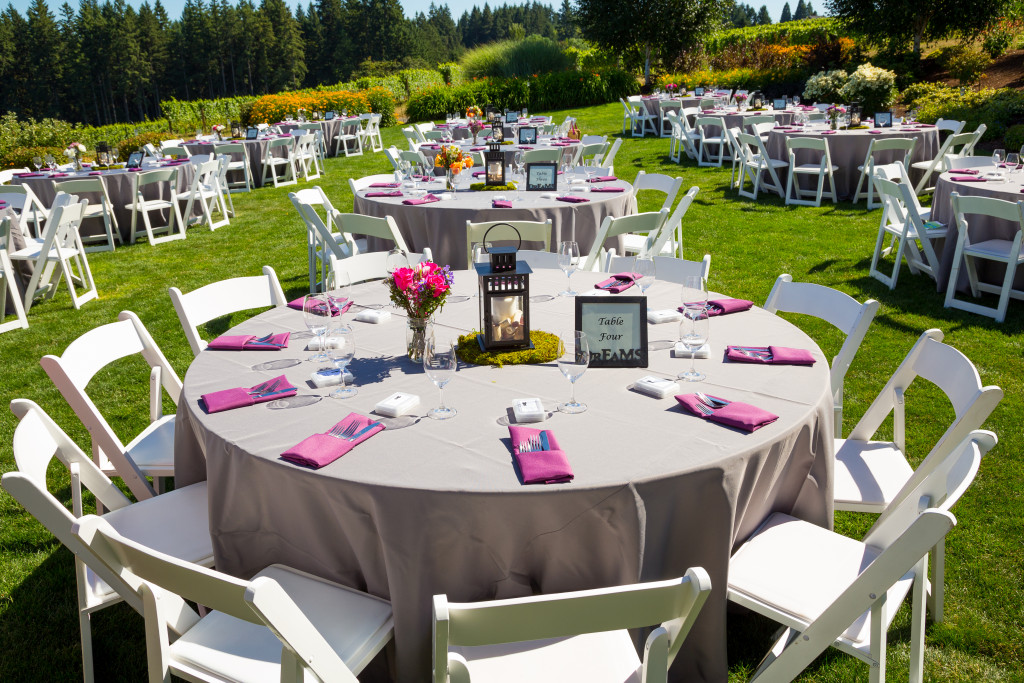 A garden venue proposes several challenges for both guests and operators. These venues need to be delicately prepared before usage. This can be hard in itself, given that there are many natural elements in the area.
Making It Presentable
Garden-themed venues often have many natural elements to them. Plants of all kinds can be found, and trees are abundant. Some also choose to put ponds to make it more appealing.
With all of these going on, it takes a lot of work to prepare the place for use. First, every plant in the venue needs to look alive. Operators can achieve this by consistently taking care of the plants in the area. They can also have regular gardeners take care of these plants.  The grassy areas should also be trimmed well. Operators of these venues can use electric zero-turn mowers for better maneuverability in these flat areas. Mowing these events lawns can help give the place a neat finish.
Ensuring the Facilities Are Working
Garden venues are usually outdoor open spaces. It can be hard to include some facilities, given that there are minimal structures in the celebration area. With that, people owners need to be creative in finding a way to incorporate these facilities into the venue.
Lighting facilities should always be working. They can hang decorative lights on the trees and plants. But of course, the venue should also have enough outdoor commercial lighting to ensure that it is still bright when the evening arrives.  There should always be powder rooms and restrooms for people to use. This is an absolute need. Guests would struggle with their celebrations without this amenity.
Provide Weather Protection
Despite the beauty and elegance of the outdoor setting, it does have some weak points. The celebration can be completely disrupted when the weather is unfavorable. This comes in the form of precipitation or harsh sunlight. With that, garden venues should have several structures that can provide weather protection to guests. Garden pavilions, outdoor function rooms, and gazebos are perfect for these venues. They can also be designed to fit in with the natural concept of the place.
The Garden's Edge
The popularity of garden venues is not coincidental. Nature can be alluring, and these garden venues perfectly highlight how beautiful nature can be. Also, interacting with the elements of nature can be therapeutic to us. Being around nature is an excellent form of stress relief for many. Holding our celebrations alongside the therapeutic effects of nature essentially optimizes its ability to let us feel positive emotions.
Gardens can be less restrictive. Because most of them are found outdoors, they can be freeing to guests. We can also expect better air quality since these spaces are well-ventilated. We must celebrate important moments in our lives. It is a function of human society and a contributor to our overall well-being. But we should also make sure to choose the right venue for these celebrations.
Choosing the right venue can elevate the celebration to new heights. It sets the atmosphere for how we should celebrate as a unit. Garden venues are not perfect, but it is hard to deny that they make every celebration special.