Dust allergies are among the most common form of allergies out there, and their symptoms are most recognizable. Having one or two dusty rooms in a home can be uncomfortable for people with allergies. But it's also telling of how often a room is clean and managed.
The thing is, dust can never be gone. There will always be little particles in the air, invisible to the eye. But even then, they can be avoided with the proper ways to clean them. If you're either trying to get rid to better your home, allergic to dust or maybe both, here are some tips that can help reduce the dust in your home significantly.
Avoid Using Drapes
Curtains and drapes are susceptible to gathering dust, so they should be washed once to twice a week. To further prevent dust build-up, vacuum them too when you're doing so for the floor. With how often you'll have to clean such heavy materials, it may be wiser to avoid drapes altogether. Consider switching to blinds. Depending on the material, using blinds can be easier to clean the dust off.
Avoid Using Carpets
Because of the material that carpets are usually made from, they tend to gather dust and debris easier. They also tend to make it harder to remove said debris when they've fallen onto the carpet for the same reasons. Crumbs, sand, glitter, and all the more dust are easily trapped here. To prevent the build-up, vacuum all carpets at least once a week. Furthermore, steam at least twice a year to get rid of dust mites and possibly allergens that might've been trapped.
Unclutter
Removing clutter means that you're removing any other surfaces that dust can cling to and settle on. This also makes it easier to clean your home and reach surfaces for cleaning. Make a habit of putting things away and returning them to where they belong. Things that are not often used should be stored somewhere else. This will help cut downtime and effort in cleaning. Additionally, there might be some things you no longer have use for. Consider putting these aside to be donated, especially since they're still in decent condition.
Don't Dry Dust Alone
Dry dusting can be effective in keeping some surfaces free of debris. But pulling out your grandma's old feather duster won't do the trick by itself. If anything, all you're doing is displacing dust particles, whipping them to other surfaces. It's much better to just get a damp cloth and wipe down any surfaces that need cleaning. The water makes the dust cling to the cloth, which you can then just wash clean.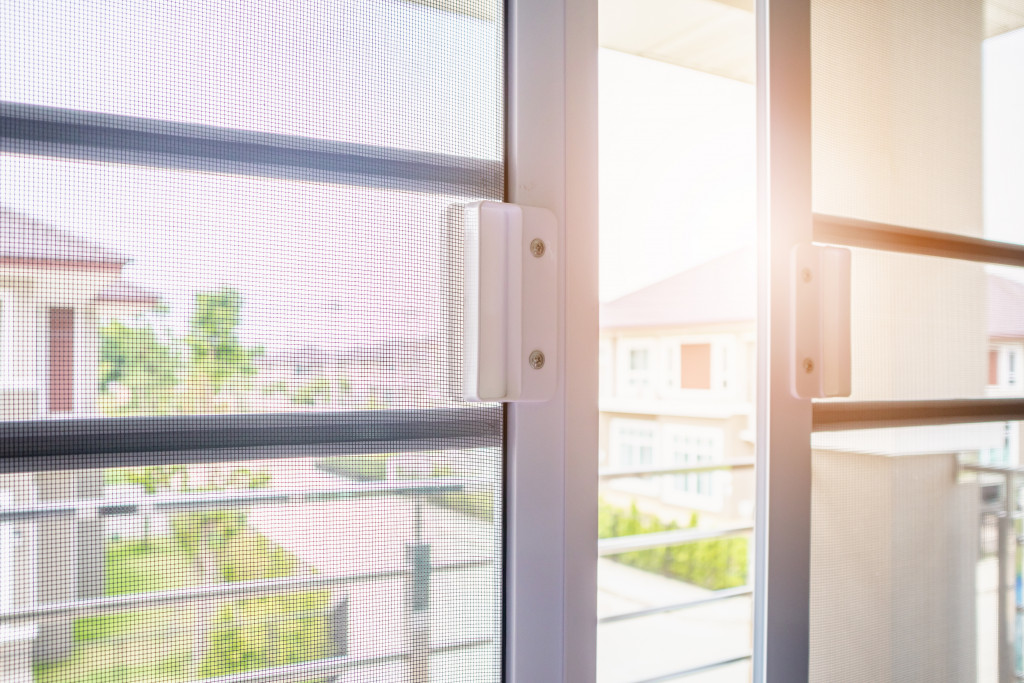 Keep Windows Shut
Although ventilating your home is important and maybe even refreshing, the outside environment is full of dust, germs, pollen, and other pollutants that are best left outside. Unlike your glass shower doors that are often wet from moisture, windows with an exterior facing side can be prone to dust and dirt. Occasionally airing out your home is fine, but leaving your window open is just asking for a tough clean-up later on. This is especially true for people in areas with lots of vehicular traffic.
Mop Floors
Never miss mopping in your weekly cleaning routine. This is especially helpful for homes with pets. Mopping the floor helps catch any remaining dust, soil, etc., that was brought with your pet. It picks up not only dust but your pet's hair as well. Moreover, there may be stray dust particles from dry dusting the rooms.
Use an Air Purifier
As opposed to filters that only get rid of particles, home air purifiers sanitize the air. Air purifiers sanitize the air in the room from allergens, toxins, and pollutants. Additionally, it can also clean the air of mold particles and smoke and even reduce a home's humidity levels. Air purifiers tend to be pricey, but they're surely worth it. With improved air quality inside your home, it's a price worth paying.
Vacuum Regularly
When it comes to dust, your vacuum is your best friend. Be it heavy drapes, the floor, or your carpet; it's always better to regularly vacuum your home. This removes any health risks that accompany the dirt and dust that build up over time.
The Bottom Line
As mentioned, a home can never be 100% dust-free. But the allergens and toxins can be filtered out, controlled, and cleaned away. With a stellar and regular cleaning routine, not only will your house look cleaner, but breathing inside it will be refreshing too. To add, it'll be a trigger-free haven for people with dust allergies.