One of the most important things you can do for your health is to build a support system. It's' not always easy to find friends and family who share your values and interests, so it's important to look beyond them for companionship. Research has shown that people with strong social networks live longer, healthier lives than those who don't' have close ties with others.
A big part of building these connections involves meeting new people in your community, getting involved in the activities they enjoy doing, and participating in their events like parties or celebrations. But how can you make these connections? Here are ways to get involved with your new neighbors: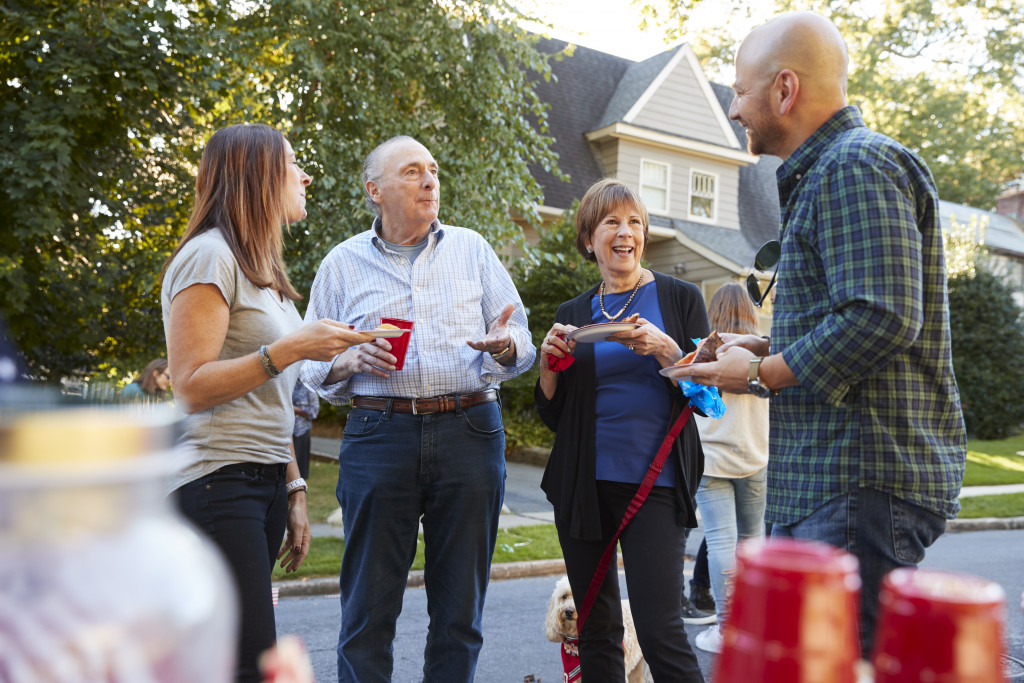 1. Welcome New Neighbors With a Cake
One of the best ways to make friends in a new neighborhood is to be neighborly. Welcoming new neighbors with a cake is a straightforward way that you can bond together through food and share information about each other's daily routines or upcoming events that might interest both parties. You can also get to know each other by asking them how their day went, what they did over the weekend, if they have any pets, etc. Chances are that you'll find out some things you have in common, and it will give the two of you something to build on. And who knows? The friendship may last for years or even decades.
2. Organize a Block Party
Another way to connect with new neighbors is by organizing or attending community events like block parties. These can be an excellent venue for sharing information about your family and the things you do together, making it easy for other families who live around you to get to know one another. If you have children, putting them in active roles—such as being a "block party starter"—will help instill a sense of pride and responsibility that comes from having something at stake.
In addition, cooking together or working on projects that involve everyone can allow community members to bond through friendly competition. For example, if five families are gathered for this event, each can choose different ingredients from which all participants will have to make something. Then, you can bring your dish back to the gathering and compare the results.
3. Help Them With Their Household Problems
Helping new neighbors with their household problems is a great way to get to know them and provide a valuable service. If they have a plumbing issue or their car won't start, offer your assistance if you can help. This will give the two of you time to chat while you work and learn more about each other's interests and routines. If their house has high radon levels, you can simply suggest that they buy a radon mitigation fan for their existing radon mitigation system.
4. Watch Their Pets
One of the best ways to bond is by caring for someone else's pets and forming a connection with them and their owner. You can offer to watch their pets while they go on vacation or work long hours. If you have an animal, ask if they would like to come over and meet yours as well. Either way, this will give you both time to enjoy each other's company as well as your pet's, which provides you with great opportunities to learn more about one another.
5. Invite Them Over for Coffee
Sometimes the best way to meet people in your community is through low-key activities like inviting them over for coffee or tea so that you can really take the time to get to know each other better. You may even find out that there are opportunities for additional social interactions like sports games, book clubs, bridge lessons, etc. And who knows? Maybe one day, they'll invite you to join their book club.
6. Plan a Potluck Dinner or Picnic
Another great way to bond with your new neighbors is by hosting a potluck dinner where everyone brings their favorite dish to share. Not only will individual families have more opportunities for friendly competition, but you'll also get the chance to learn about each other's cultures through cuisine. Generally speaking, if people are passionate about what they love doing or eating, they'll be happy to talk about it; this could be everything from classical literature (Lolita) to their own family recipes that have been passed down for generations. It may seem like a stretch at first, but give it time, and it will pay off.
7. Attend Community Meetings and Events
Another great way to learn more about your new neighbors is attending community meetings and events, like church and community center gatherings. These monthly and weekly activities provide great opportunities to meet others in the area and expand your social network with people who share mutual interests.
Whether you're' moving up to the next level (marriage) or down to a lower floor (divorce), it can be challenging to meet new people in your community and build relationships. But uniting with neighbors on a quest for social activities and shared interests is one of the best ways to connect and bond, and who knows? You may even become friends with your neighbor's son's best friend.