Vehicle accidents are prevalent in different parts of the world. According to the World Health Organization (WHO), about 1.3 million people die every year due to road accidents. That is not to mention the number of injuries and disabilities resulting from vehicle collisions. As a responsible driver, you must always make road safety a top priority.
But as accidents are inevitable, it's better to come in prepared and ready as well. If you come out alive but injured, a car accident comes with many responsibilities. You must know how to handle it immediately and deal with its aftermath. On top of these is navigating through legal matters associated with road accidents.
That said, here's how to legally handle a vehicle accident:
1. Consider safety first
Getting into a car accident is no joke. While it's good that you come out alive, you can end up hurt and injured. As you can become very disoriented during the actual incident, it's best to keep the word "safety" in mind. Even if you've already undergone the training and certification, continue to get defensive driving courses online. But when an accident inevitably occurs, look for ways to stay as safe as possible.
2. Contact emergency services
Soon after the car accident, the next course of action is to contact emergency services. Make sure to call the authorities right away if you and the other drivers or passengers get severely impacted. As much as possible, you and those affected need to immediately get a medical checkup and medical treatment if necessary. Keep in mind that you must secure medical records for future legal actions.
3. Report to the police
Aside from calling the ambulance, you must contact the police. It's required to report the incident to the police in most states. However, it may not be necessary for some. Still, get a police officer, particularly if someone gets severely injured or killed. Consider doing so if you suspect the driver involved in the accident is under the influence of alcohol or drugs. As the police officer will report the accident, don't forget to obtain the phone number for future contact.
4. Call your insurance provider
Another crucial step is to get in touch with your insurance provider. If you're the one at fault, you must inform your insurance provider about the accident. While at it, check the coverage of your policy and ask about the process of filing a claim. But if there's another party at fault, contact your insurance provider still. They may help you track the insurance provider of the driver responsible for the accident.
5. Exchange personal details
It's crucial to exchange information with the party involved in the accident for future legal action and claim submission. Be sure to get the following information:
Name
Address
Contact number
Driver's license
In addition, gather the vehicle details such as the following:
Manufacturing date
Make and model
Vehicle color
Plate number
Vehicle identification number
Lastly, don't forget to obtain the other party's insurance information. Obtain the insurance name, contact details, and insurance policy number, if possible.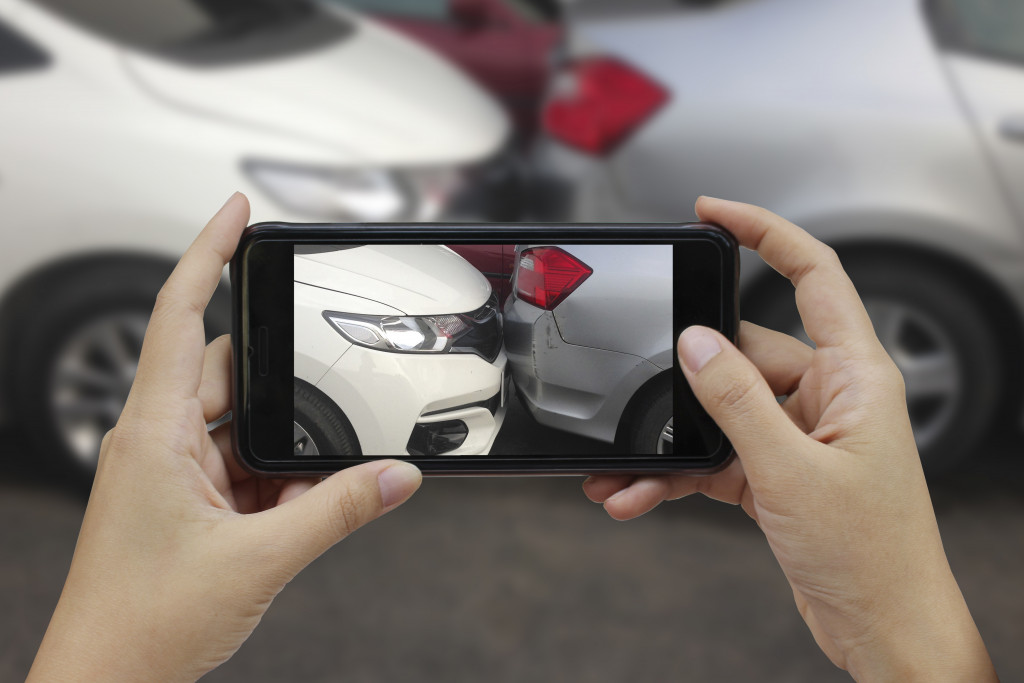 6. Collect pieces of evidence
It's crucial to document the actual vehicle accident. Make sure to gather as many pieces of evidence as possible. First, take photos and videos of the scenes. Be sure to record your personal injuries and the vehicle damage. Second, get some testimonies from witnesses and record them via audio or video. Ultimately, securing all the pieces of evidence will help in your legal steps.
7. File an insurance claim
As mentioned above, it's best to contact your insurance to report the accident. For the most part, your insurance will step in to cover things such as vehicle repair and medical expenses. Just make sure to ask what forms to submit and what requirements to present.
On the other hand, you can file a claim from the responsible party's insurance if they are at fault. Make sure to contact the insurance carrier and ask how you'll go about seeking proper compensation.
8. Work with a lawyer
It's best to hire a personal injury lawyer when you get into a vehicle accident. An attorney will help you take legal action and ensure you get proper compensation.
In some cases, you and the other party will negotiate and reach a settlement. If not, however, you can file a lawsuit against the other party. Your hired lawyer will represent you with your best interests in mind.
At this point, you now know how to handle a vehicle accident and deal with its legal matters. Consider the steps outlined above, from having safety considerations down to hiring a lawyer. While you don't want to get into a road accident, it's best to come in prepared and ready. Ultimately, you must be on top of any legal matter involved in your personal-injury case.